La Tomatina (Spanish pronunciation: [la tomaˈtina]) is a festival that is held in the Valencian town of Buñol, a town located in the East of Spain 30 kilometres (19 mi) from the Mediterranean, in which participants throw tomatoes and get involved in this tomato fight purely for entertainment purposes. Since 1945 it has been held on the last Wednesday of August, during the week of festivities of Buñol.
History
The tomato fight (or La Tomatina) has been held in Buñol since 1944 or 1945. This event was created after two men, in political protest, began throwing tomatoes at many people and places, and continues to this day, though more for enjoyment than protest. The holiday was banned in the Spanish State period under Francisco Franco for having no religious significance, but returned in the 1970s after his demise. In 1957, demand for the popular festival led to its becoming official, with certain rules and restrictions. These rules have gone through many modifications over the years.
Another important landmark in the history of this festival is the year 1975. From this year onward, "Los Clavarios de San Luis Bertrán" (San Luis Bertrán is the patron of the town of Buñol) organized the whole festival and brought in the tomatoes, which had previously been brought by the local people. Soon after this, in 1980, the town council took over responsibility for organizing the festival.
Since then, the number of participants has increased year after year. In 2002, in the month of August La Tomatina of Buñol was declared a Festivity of International Tourist Interest by the Secretary Department of Tourism due to its success. In 2013, town officials introduced an entry fee and limited the number of participants, citing concerns over safety.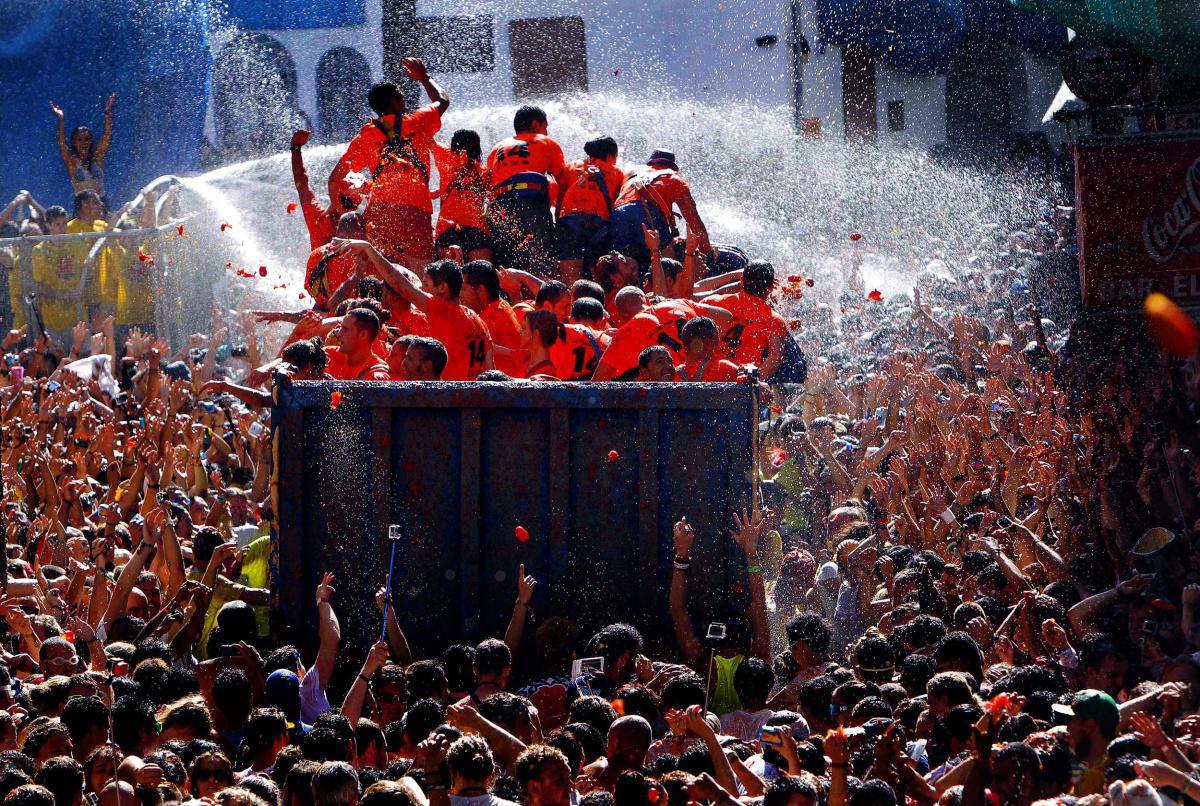 Description
Usually the fight lasts for an hour, after which the town square is liberally covered with tomato debris. Fire trucks then hose down the streets and participants often use hoses that locals provide to remove the tomatoes from their bodies. Some participants go to the "los peñones" pool to wash. The acidity of the tomatoes leads to the washed surfaces in the town becoming very clean.
Since 2013 participation in the event has been restricted to the holders of paid tickets. In 2015, it is estimated that almost 145000 kg of tomatoes were thrown.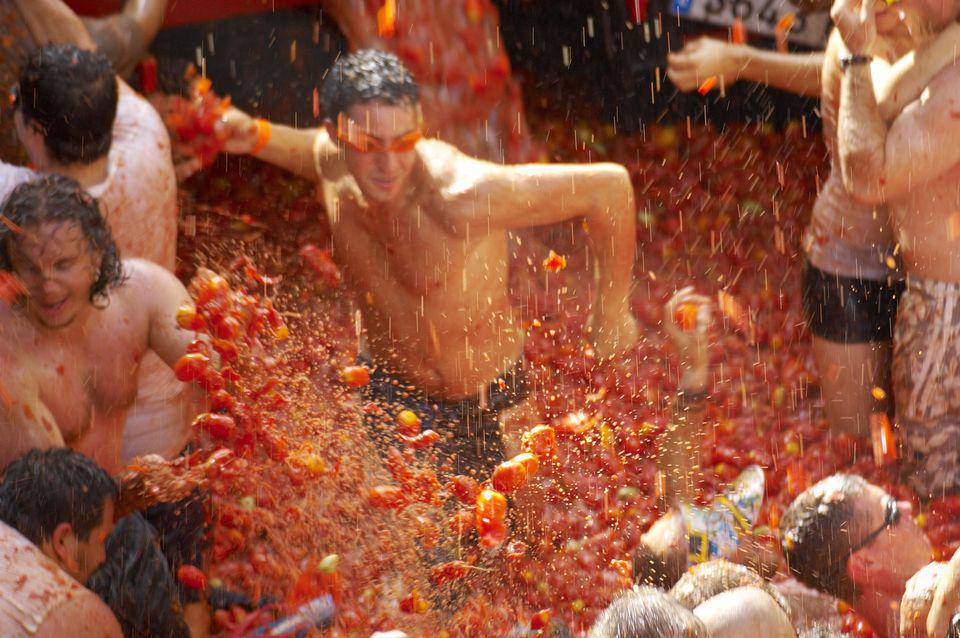 Rules of the Festival
The city council follows a short list of instructions for the safety of the participants and the festival:
Do not throw bottles or hard objects
Do not tear or throw tee-shirts
Squash tomatoes before throwing them to avoid hurting others
Keep a safe distance from trucks
Stop throwing tomatoes after the second starter pistol shot
Follow the directions of security staff